New Products Just Arrived
2019 Grapehound Wine Tour® Registration (must be 21) Please select arrival time and # of tickets below...select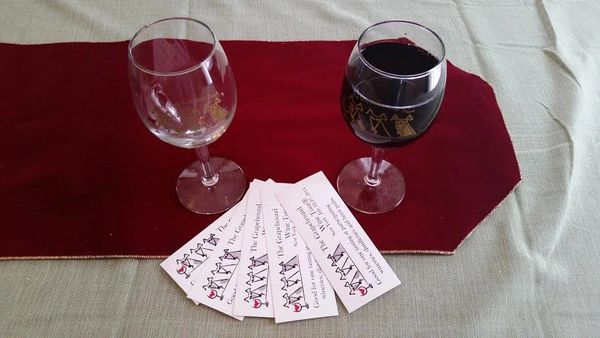 Description
One registration at
The Grapehound Wine Tour
®
, Seneca Lake, NY July 25-28, 2019.
Registration includes 
our Welcome event on Thursday evening at Hazlitt 1852 Vineyards, including and hors d'oeuvres; 

wine tasting passes for up to ten wineries/brew pubs on Seneca Lake (with the option to taste at many more wineries or brew pubs for just $1); 

a Grapehounds wine glass; 

handouts and an E-booklet with information about the event;

a concert Friday evening and musical entertainment throughout the weekend;

a huge vendor tent and greyhound Silent Auction event.

You must be 21 to register or to taste wine at our event.    When you check out there is
no shipping

 cost applied to registrations.  We will have all your materials for you when you check in at the event. Nothing is mailed or shipped to you at home unless you make a special request.
Early Bird Registration 
Registrants may choose to register as an
Early Bird
.  

There is no charge for this.

 This means you will arrive at the event early to begin wine tasting activities before our opening Welcome event at Hazlitt 1852 Winery on Thursday evening, July 25th. Instead, Early Birds will check in at Atwater Estate Vineyards on Tuesday, Wednesday or Thursday, July 23rd. or 24th. or during the day on July 25th.  
The Early Bird option is for people who plan to be in the Finger Lakes for wine tasting
before

 our Thursday evening Welcome event.   You need to let us know at the time of registration that you will be an early bird.  We have to transport wine glasses, tote bags, tasting passes, etc., to Atwater estate Vineyards before Tuesday July 23 so that your stuff is ready for you when your arrive.  We need to know how much stuff to pre-position at Atwater. Therefore, you must indicate that you wish to be an

Early Bird

in order to pick up your tasting tickets and wine glasses early at Atwater Estate Vineyards.  [If you forget to indicate your Early Bird intentions, just send us an email at

Grapehound@gmail.com

]



Our main event check-in location will be active 
9AM-5PM 
Friday
 (July 26) and 
Saturday
 (July 27).  This location will be announced shortly.  
  You may also check in at our Welcome event at Hazlitt 1852 Vineyards on
Thursday
evening, July 25th, 5-8PM.
Email us for questions at 

Grapehound@gmail.com